Explore the exotic world of bugs, arachnids and little critters. What do they look like up close, what do they eat, and what makes these fascinating creatures such pests? Enjoy a fun and educational journey into the world of pests!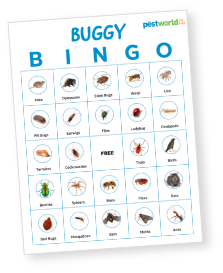 Looking for a fun family activity?
Try your luck at Buggy Bingo!
Download the Kit
Junior entomologists in grades K - 8 will discover fun information and learning activities, such as pest guides, a pest glossary, report writing center, science fair projects and interactive quizzes. Parents and teachers can access a library of pest lesson plans that support education standards from the National Science Teachers Association and National Council of Teachers of English.