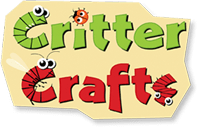 Hand-Trace Butterfly
Materials
Construction paper in assorted colors
Paper cup
Markers or glitter pens
Pom poms
Glue
Scissors
Directions
Trace the bottom of a paper cup onto a piece of paper for the head, and draw an oval shape for the body. Cut out.
Trace hand on several different pieces of construction paper in different colors and cut so that you have 2-3 for each side of the butterfly.
Glue wings onto the back of the butterfly's body.
Cut out 2 small antennae and glue to back of head.
Flip over and decorate wings.
Draw a face and let dry.