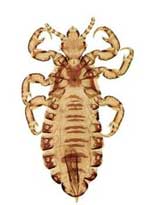 Sucking Lice
There are over 500 different species of sucking lice. The most commonly found species of sucking lice are "head lice" and "crab lice". They get their name because their mouths are designed specifically to suck blood.
Size:

1/12"

Shape:

Seed like

Color:

Whitish

Legs:

6

Wings:

Yes

Antenna:

Yes
Common Name:

Sucking lice

Kingdom:

Animalia

Phylum:

Arthropoda

Class:

Insecta

Order:

Phthiraptera

Family:

Pediculidae

Species:

Peduculus humanus
Diet:
Sucking lice are parasites. They feed on blood and only appear on mammals. In fact, most species of Sucking lice prefer to feed off rodents. "Head lice" and "crab lice" are more commonly found on humans.
Habitat:
The only way "head lice" can get food and water is by sucking blood from the scalp but they can be found on other parts of the body. They can spread from one person to the next through contact with bedding, clothing or by sharing combs. "Head lice" are common problems in crowded places, such as elementary schools, since children tend to share clothing more and frequently come into close contact with each other. 

"Crab lice" are usually found in other areas containing hair, such as beards, eyebrows, armpits and the pubic region. "Crab lice" are not as common in places such as schools, since they can only be spread through direct physical contact.
Impact:
Hundreds of years ago, due to lack of hygiene and over crowding in dirty conditions, lice were considered deadly because they carried diseases such as typhus. Today, sucking lice are not really considered a health threat, but their bites may result in itching and redness around the area of the bite. 

If you suspect exposure to lice, wash all clothes, bedding, combs, towels, etc. You can also use special combs, shampoos and conditioners designed specifically to treat lice. Also, try saturating hair with baby oil at night to kill both lice and their eggs. If you do this, wrap a towel around your head to keep from soiling your bedding and be sure to wash your hair thoroughly in the morning.
Prevention:
Avoid using other people's combs, hats, towels, etc.
Have someone check your scalp at least once a month to make sure you have not been exposed.