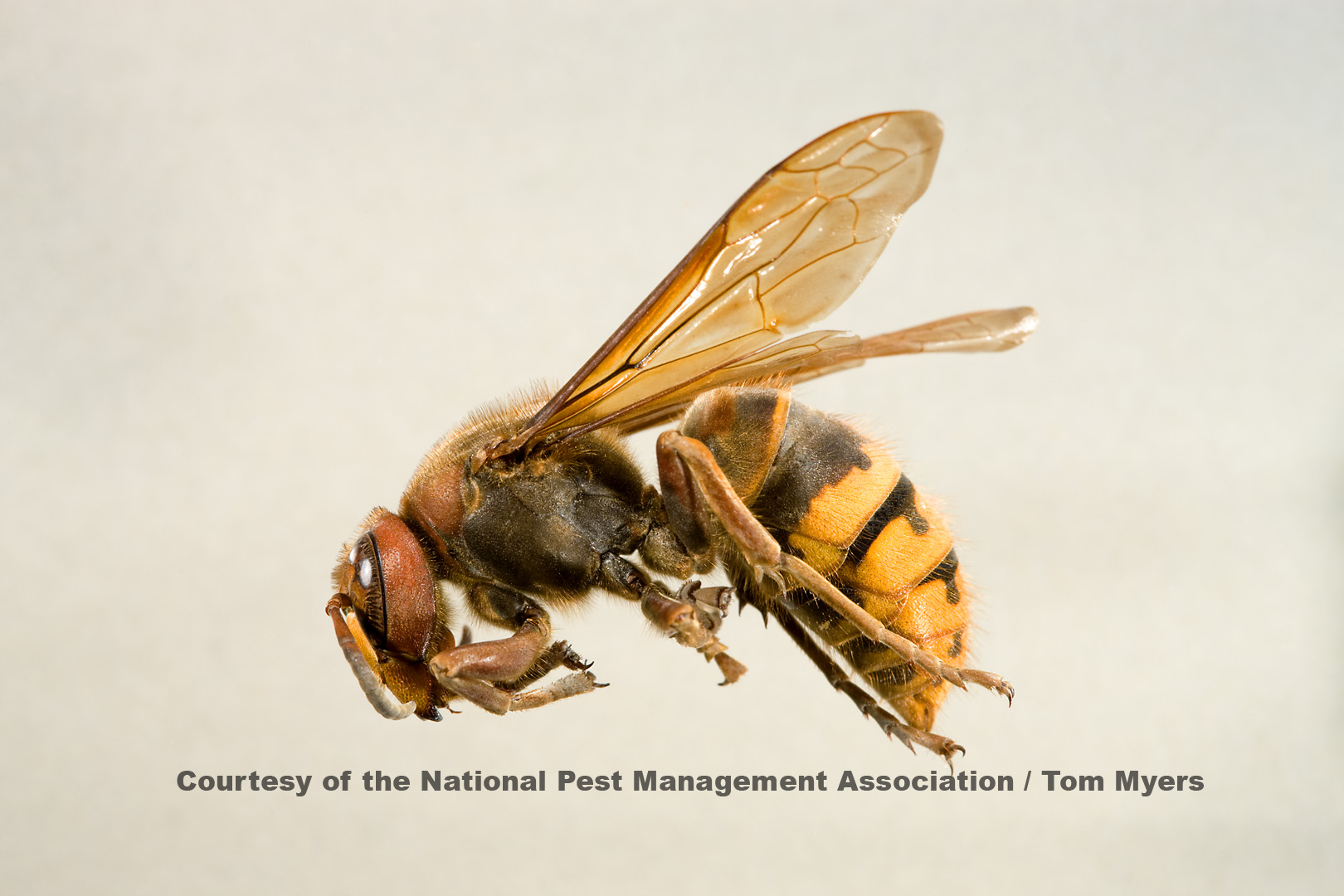 European Hornets
European hornets are much larger than other wasps. Unlike most other stinging insects, European hornets will fly at night. 

Queens are the only females to reproduce. Most other hornets are female workers who build the hive, gather food, feed the young, and protect the colony. There are few males (also called drones) in the hive. Since their job is to mate with the queen, males typically die soon after mating.
Size:

1 1/2"

Shape:

Wasp

Color:

Black with yellow markings

Legs:

6

Wings:

Yes

Antenna:

Yes
Common Name:

European hornet

Kingdom:

Animalia

Phylum:

Arthropoda

Class:

Insecta

Order:

Hymenoptera

Family:

Vespidae

Species:

Vespa crabro
Diet:
Their diet consists mainly of large insects such grasshoppers, flies, bees, and yellow jackets. They also eat tree sap, fruit and honeydew. And, unlike other species of hornet, the European hornet will hunt in groups.
Habitat:
Nests are typically built in hollow trees, but they are often found in barns, sheds, attics, and hollow areas of house walls. Unlike its cousins the yellow jacket and the bald-faced hornets, European hornets rarely build nests that are free hanging or in unprotected areas, such as tree limbs. They use decaying wood fiber to build a shell around their nest as protection. As winter approaches, the worker bees die off and the Queen will leave the existing nest and find an empty log or other sheltered spot to spend the winter.
Impact:
European hornets can do a great deal of damage to trees and shrubs, because they strip the bark to get to the sap. They also use the bark fiber to build their nests. They have smooth stingers, so they can sting over and over again. Their stings also carry venom that makes the stings hurt, itch or swell for about 24 hours. A European hornet sting has the same risk of allergic reactions from as with other wasp stings.
Prevention:
Do not leave sweet drinks or meats out in the open.
Call a pest management professional if you find hornets around your house.
Teachers can find additional European hornet facts to share with students at the official NPMA website.